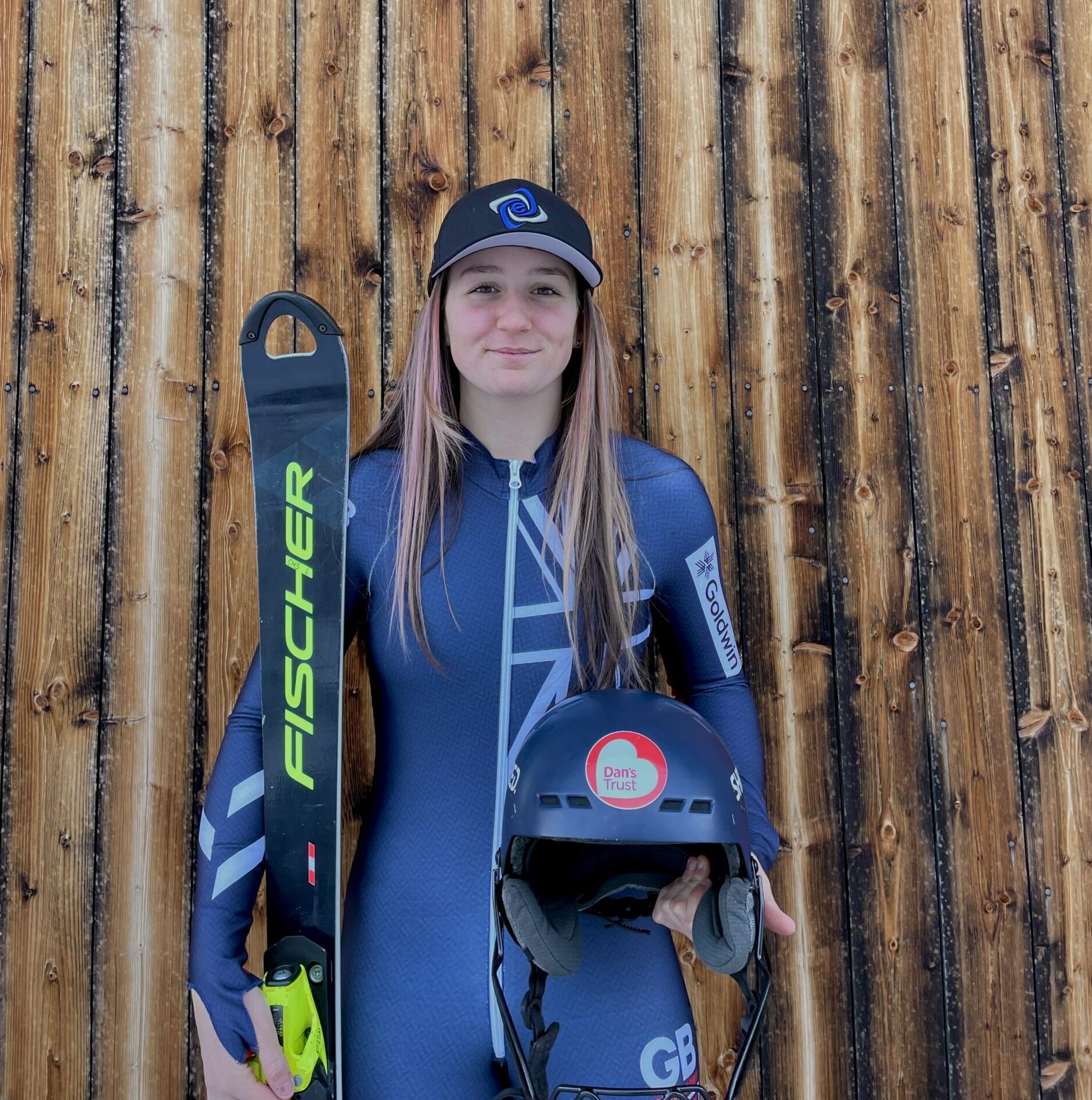 Team GB Alpine Ski Racer, Charlotte Holmes, becomes our newest Ambassador
We're delighted to announce that Alpine Ski Racer, Charlotte Holmes, has become our latest ambassador.
Charlotte, 17, is from Higherford, Pendle and began skiing at the tender age of three, and has been race training since she was just seven. She now spends over half of the year abroad, in Radstadt, Austria, at an elite facility that allows young ski racers to combine their school studies and athletic training.
Charlotte was selected as part of the Team GB Youth Olympics squad for the Friuli Venezia Giulia 2023 European Youth Olympic Winter Festival last week. And now with funding and support from us, she's hoping to also qualify for the World Junior Championships and participate at the national championships.
Charlotte said: "Having to self-fund my training program and equipment costs is extremely strenuous for my parents and I. The kindness from Dan's Trust will bring both financial and mental reassurance, allowing me to focus on performing well. The funding from the charity will be used to help cover my equipment costs which are one of the main costs we have to cover annually. My skis, boots, helmets and race clothing alone can cost up to £10,000 a year, so this grant will help me buy the skis I need to perform at an elite level."
Charlotte is currently part of the Great Britain Snowsport FIS Squad and she usually trains on the slopes from 7am – 12pm, six days a week. She then completes her schooling and fitness in the afternoons, taking just one rest day! Back in the UK, Charlotte is active within the grassroots of the sport; she volunteers at her local ski club, works with shops and sponsors to promote herself and the sport, and is currently undertaking her coaching qualifications as she looks to pass on her knowledge to others. She also regularly contributes to Skier and Snowboarder magazine.
Paul Telling, one of Charlotte's coaches and Team Evolution Programme Director, said: "Charlotte is a fantastic young ski racer, who combines an obvious love for ski racing with a phenomenal work ethic. On snow, she trains with the right attitude, intensity, and focus, whilst off the slope her behaviour is exemplary and she acts as a fantastic role model for others. Charlotte has a great amount of potential, however it is her attitude, work rate and persistence that sets her apart.
"Ultimately, I believe it is these core values and characteristics which will see Charlotte reach a high level within any sport in which she competes, and that help make her a fantastic role model for other young females within sport."
Charlotte finished the 2021/22 season as the U18 British Champion winning National titles in multiple disciplines, and achieved the selection criteria for the 2023 European Youth Olympics, which she will be racing in from January 21 – 28 2023, in Tarviso, North Italy.
She follows in the footsteps of Lnacashire's most successful Ski Racer, Dave Ryding, who Charlotte cites as a genuine inspiration to the whole of GB Snowsport.
"Dave is someone a lot of young snowsports athletes can look up to, but to me and my journey, his path to success is very personal," Charlotte explained.
"He started at Pendle, following the UK's dry slope circuit and not having much experience on the mountains until his teenage years, which is very similar to how my journey is going and really shows that anything is possible if you work hard enough and are willing to make sacrifices. I hope to carry on what Dave has started in British skiing and prove we can hold our own with the mountainous countries."
Ian Bagshaw, co-founder and trustee of Dan's Trust, commented: "We feel very honoured to be attracting such impressive young talent, like Charlotte, to our Make A Difference Awards. She clearly has a very bright future ahead of her and we're happy to be able to support her with a donation to help her on the path to sporting success."
Charlotte added: "I am extremely excited to be working with Dan's Trust over the upcoming seasons, I believe we are able to work really well together. Not only to help me achieve success in skiing but to help other children have opportunities in sport!"
Alongside Charlotte, this month we are also awarding 10 other young people from across the county, including Muay Thai Fighter, Lauren Phee, Dancer Noah Garley and Regional Level Swimmer Evie Sunderland.
You can keep up to date with Charlotte on Instagram, @charlotteholmes_ski